Real Estate as an industry suffers from the problem of being commoditized. Price becomes the dictator. For a premium real estate brand the challenge is to lead a change, push real estate beyond just being a commodity. It is required to break this barrier and create a new way to reach out to the customers and appeal them. Indya Estates a leading real estate brand did so by bringing on us on board as their Brand custodians. The need was to create a brand identity, market projects and activate digital space to become a brand that sells dreams not sq. fts.
Indya Estates is a leading developer of affordable housing in Bengaluru. With 5.5 mn sq ft under construction and approval, the brand has a customer base of 5000 across north and south Bengaluru. Flagship projects include The Greens at Anekal and The SkyView at Devanahalli.
As their brand custodians we redefined their brand through a corporate campaign, launched a general audience campaign – Home for all and also created and managed their digital presence.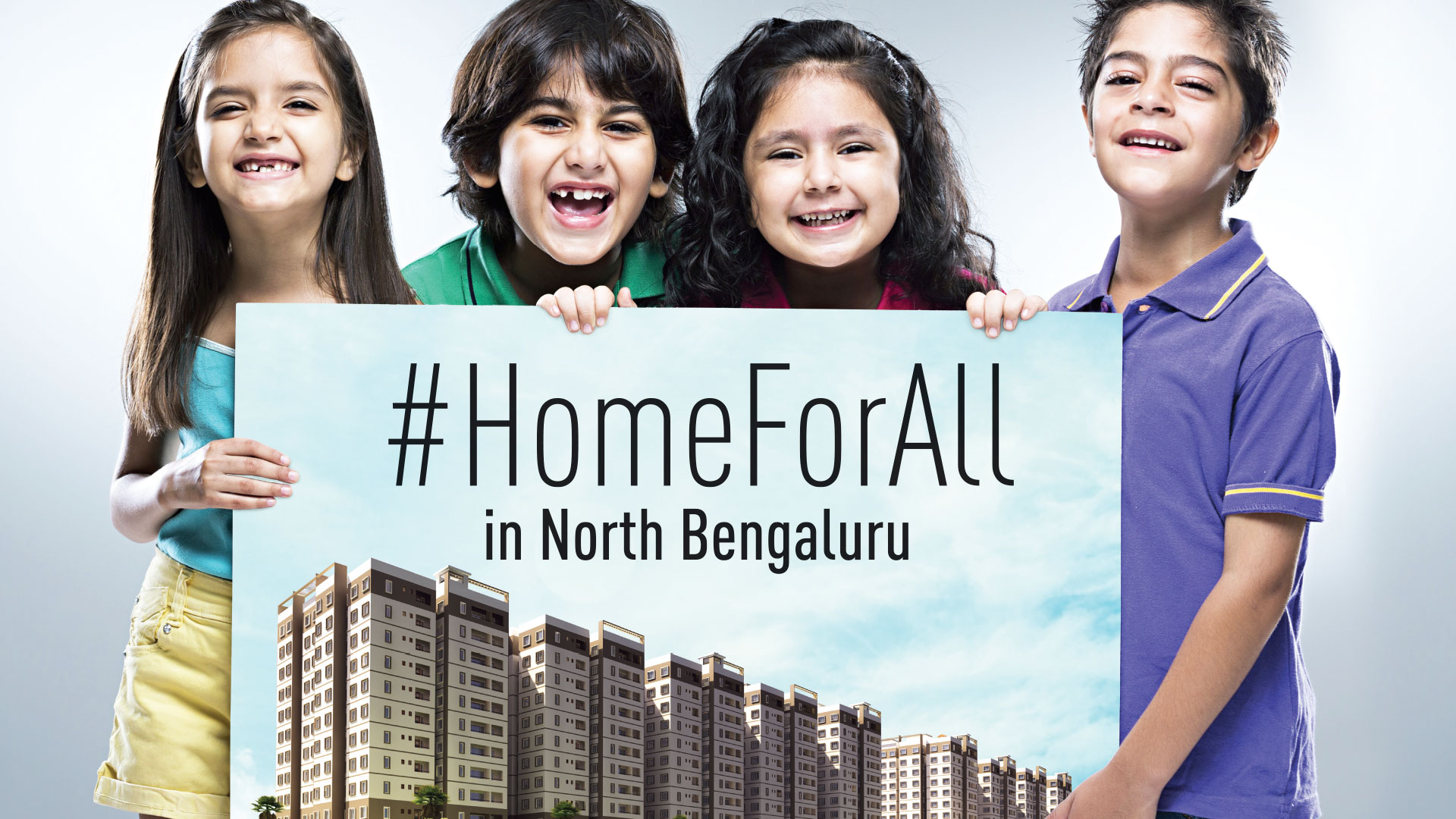 From tactical advertising to Brand building
An assuring communication
The first step to help Indya Estate move away from the commoditized space was to re-look at its existing communication. It had always been an aggressive advertiser in Bangalore. But the messaging and the communication path it chose was that of – sales & offers, a tactical approach.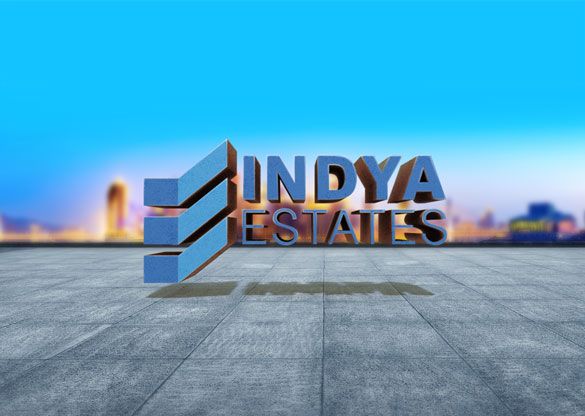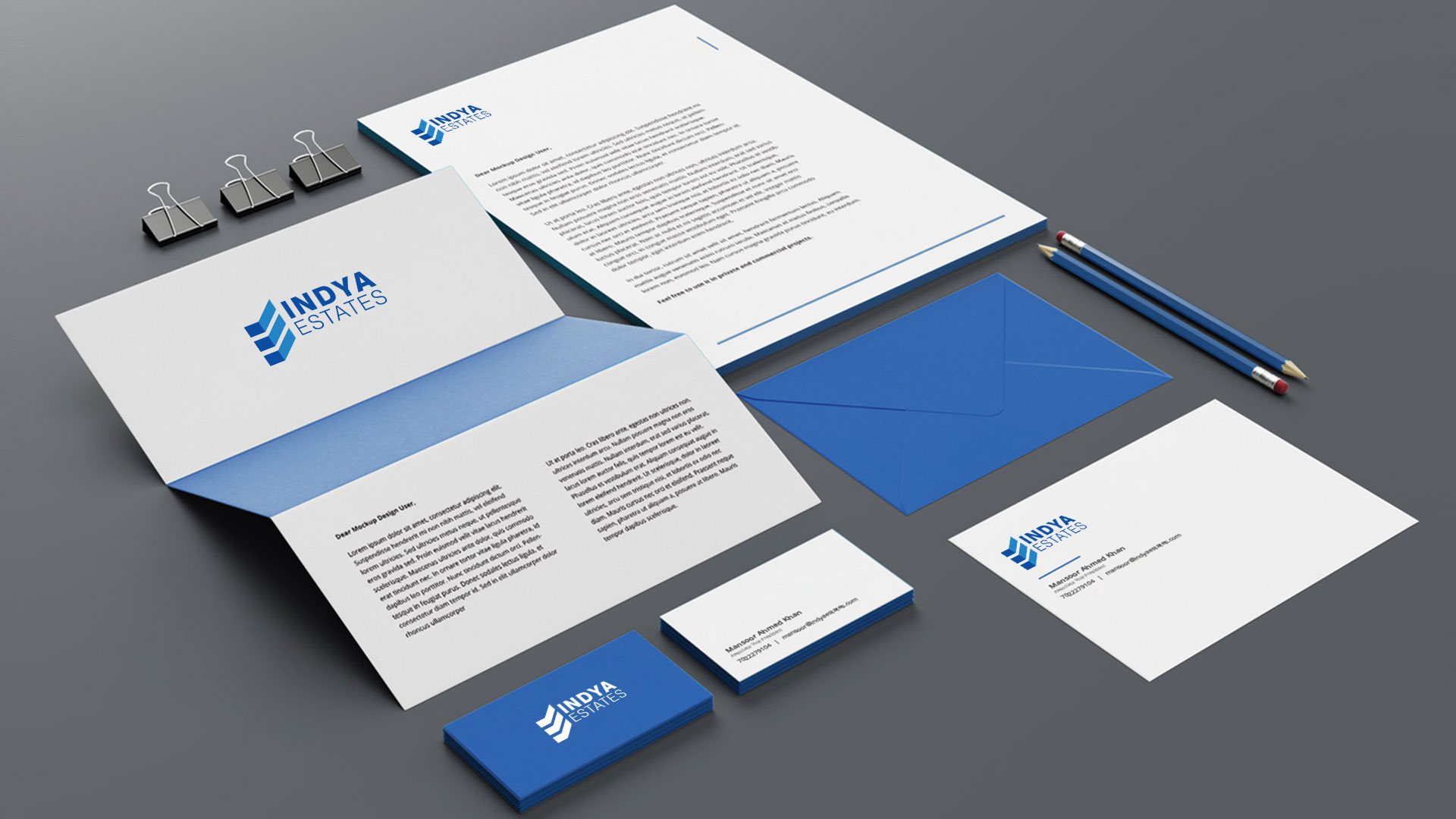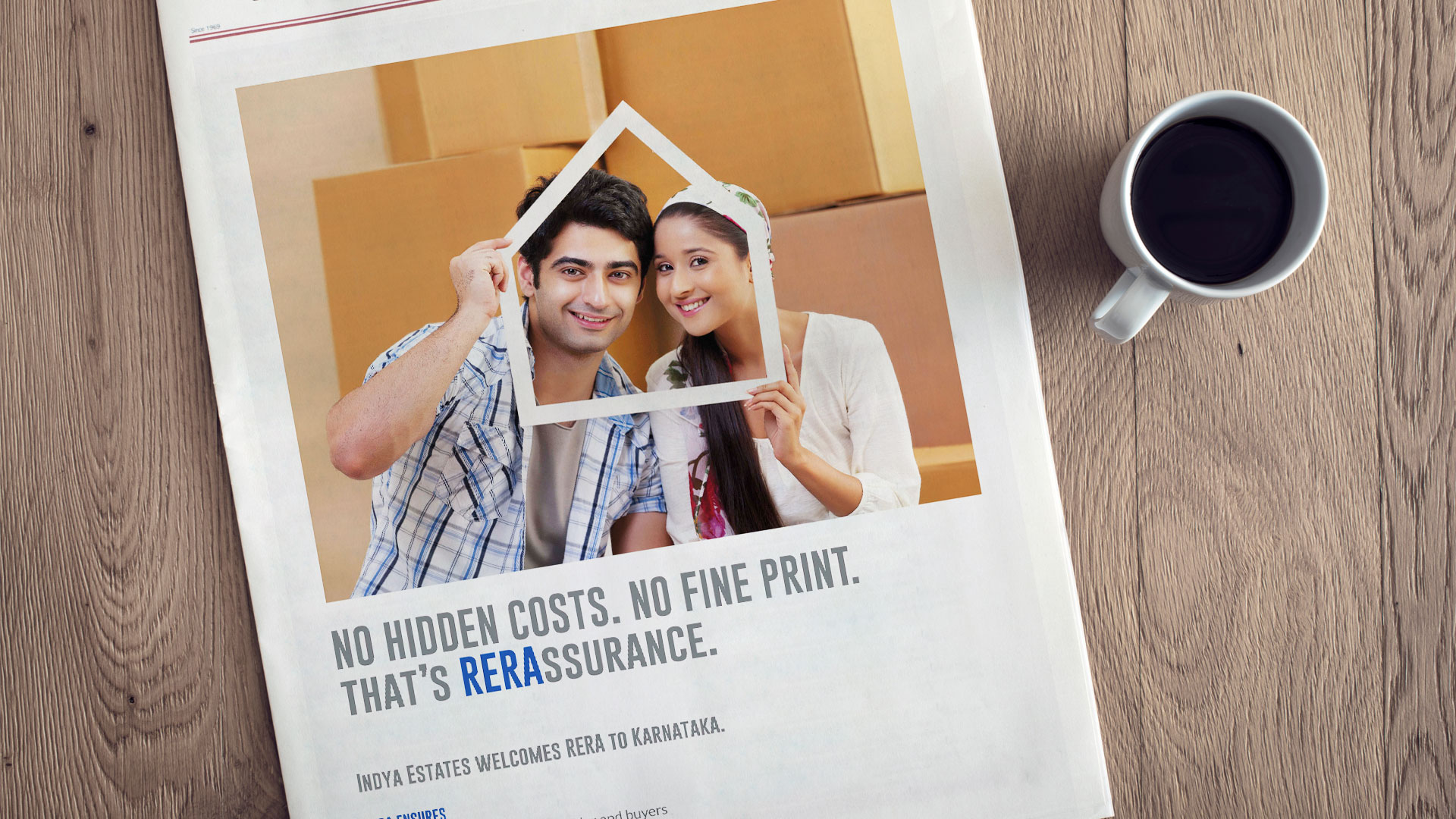 We understood the market sentiment of that time, wherein Real Estate was facing tremendous deficit in the last few years then. The sentiment that prevailed was about fear and uncertainty. With this campaign, we wanted to assure people of the promises made by builders including Indya Estates. This gave birth to the term "RERAssurance" ensuring buyers of the security of buying a home with RERA on their side. A series of print ads, online communication, blogs and seminars were planned. A publication was created for buyers to download and study the benefits of RERA. Entire initiative was powered by Indya Estates.
This made Indya Estate the go to brand, a symbol of trust amongst consumers.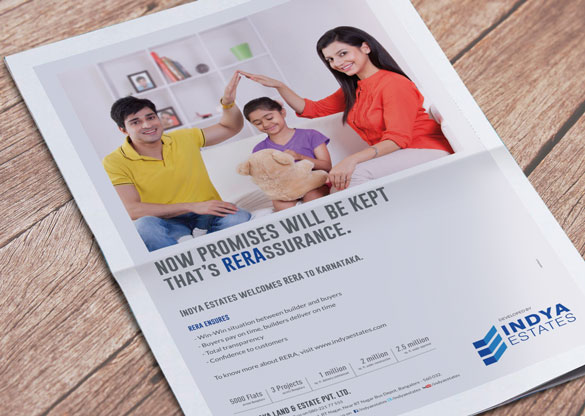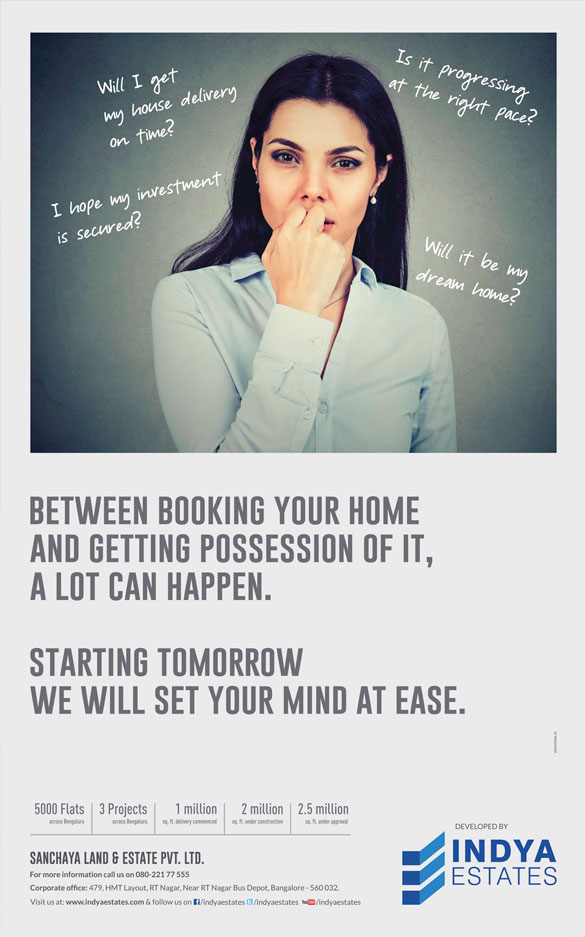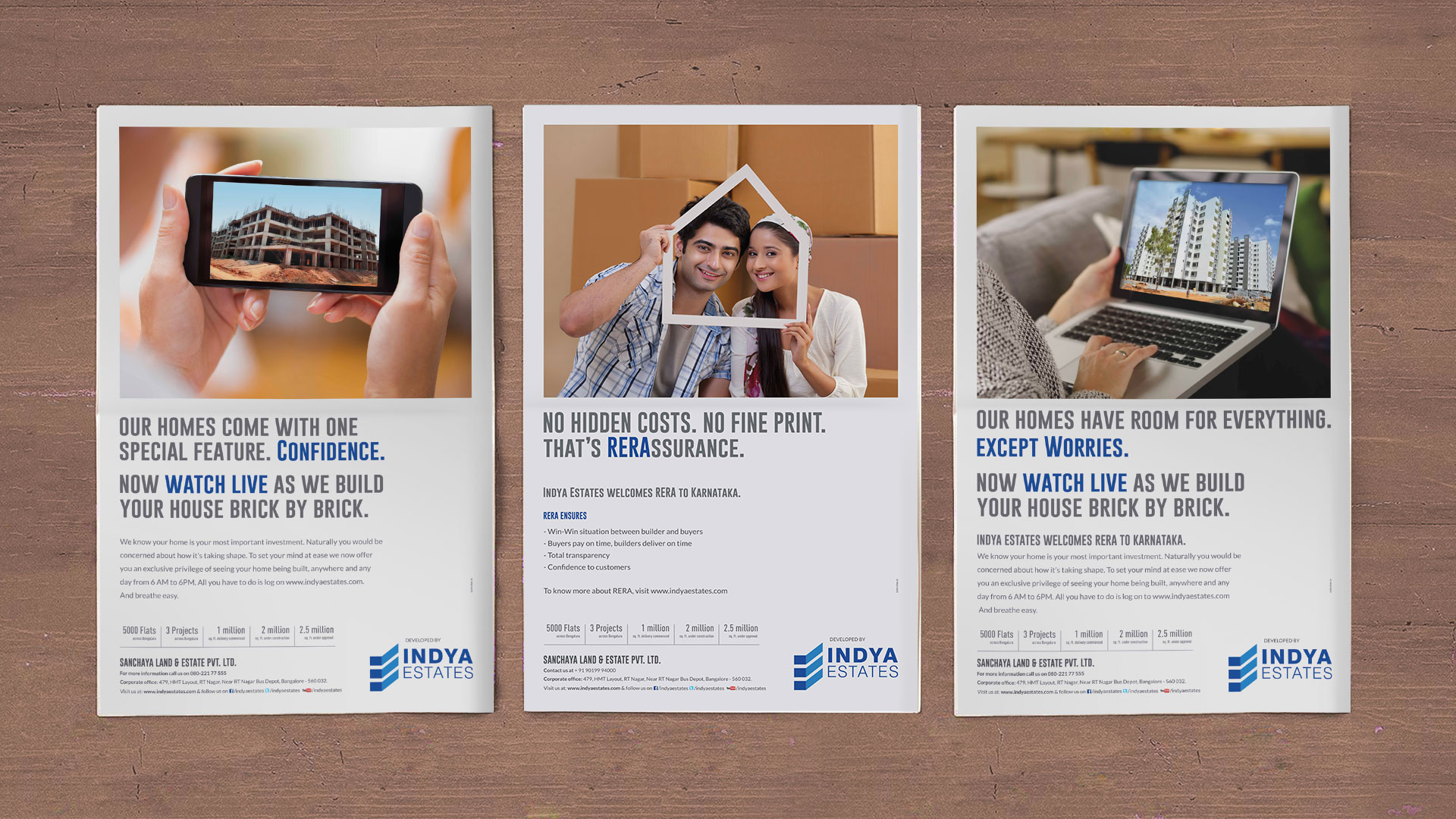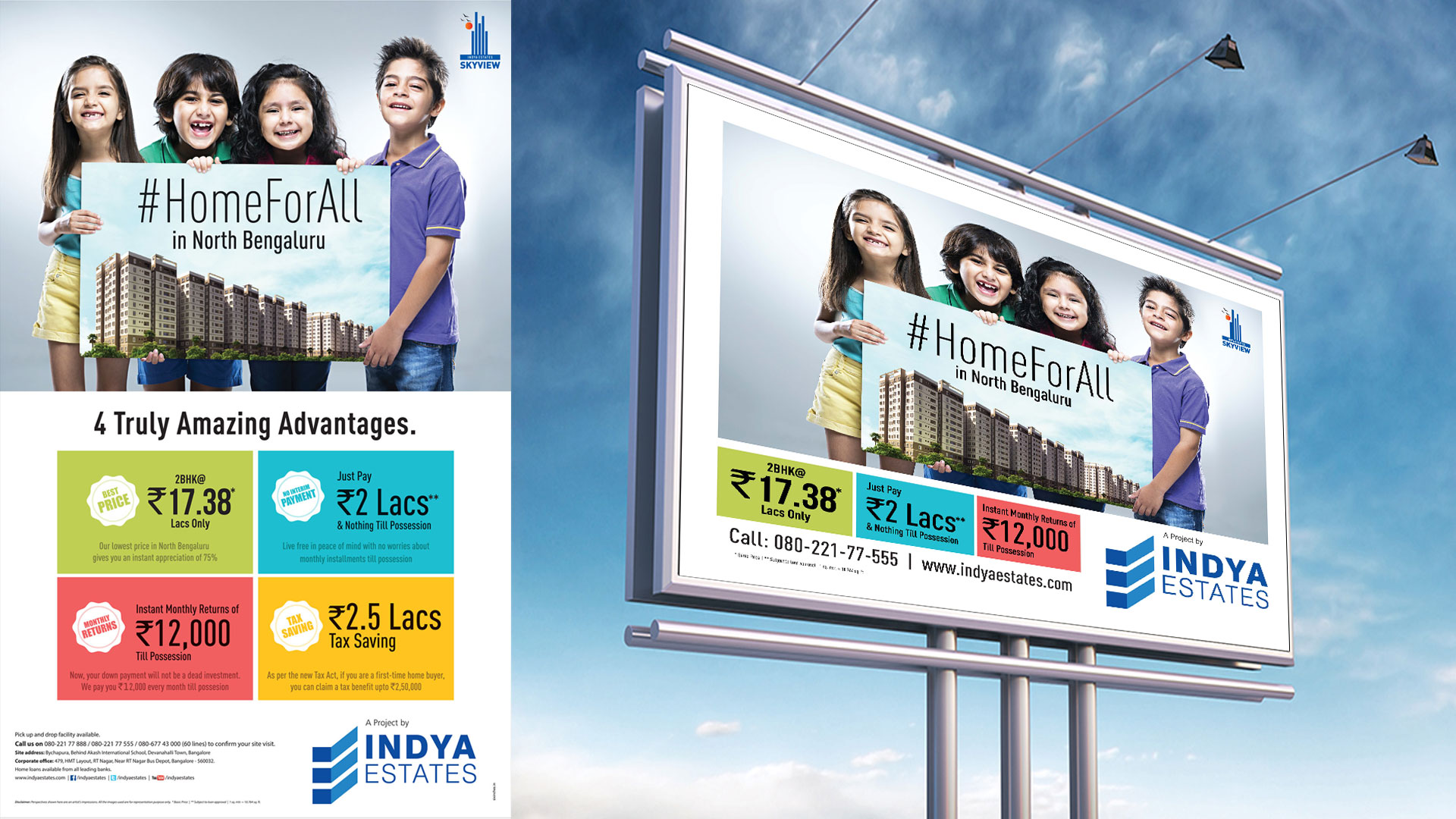 Fighting the slump with creativity
Indian real estate scenario was experiencing a massive slump across residential and commercial zones. Fortunately the budget homes category had some potential.
The key challenge was to how to attract the buyer. Indya Estate had major properties across Bengaluru in budget housing. We thus decided to craft a campaign addressing the mass consumer, through adroit marketing and communication.
We decided to keep Project Skyview, located at Devanahalli, Bangalore (close to the International Airport) offered affordable housing options with luxury amenities as the protagonist project of the campaign. Since it was an ideal solution for the primary target consumers who are middle class married professionals, on the lookout for affordable homes to accommodate their growing family.
We conducted an in-depth research which revealed that the real estate campaigns had hit a dead end as a stereotype, template type communication was making it a bore. Dreary lavish buildings, sprawled with green landscapes and jargon, made them blind spots. This insight led us to make our campaign rational and emotional. We zeroed on a simple message, #Homeforall which was coupled with the images of happy children.
We based on creativity on insight and similarly our execution too was based on an interesting insight. Research proves that people need to see the same ad or message several times before responding. Repetition is the key. Since print medium was full of real – estate ads, instead of going with conventional methodology, we planned a series of ads within the same edition, on the same day to create a buzz and establish higher visual impact. Print campaign was also promoted through OOH medium to increase recall value and brand visibility.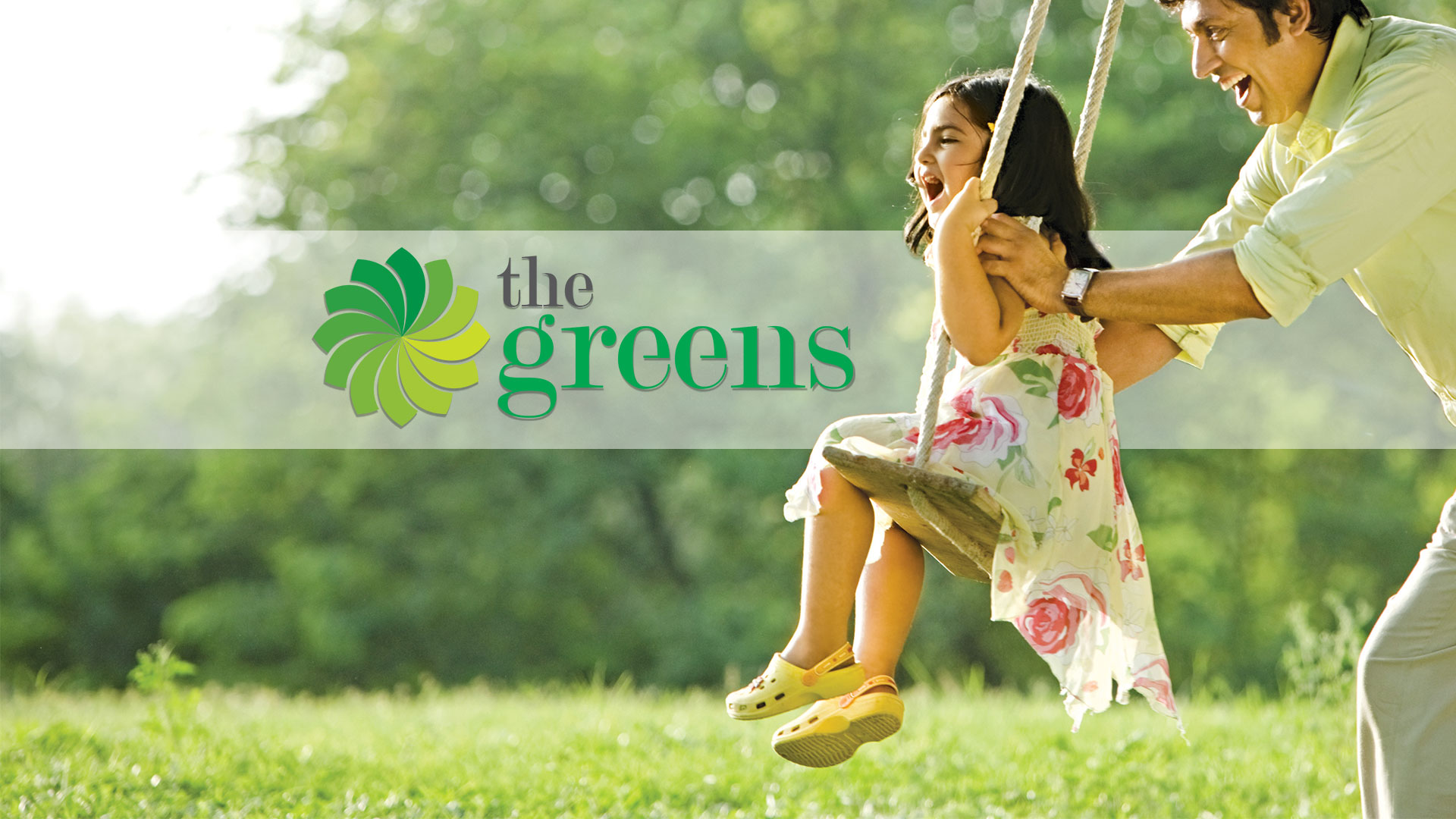 As a leading brand Indya Estates wanted to bring the best of both worlds together for its consumers. It wanted to give luxurious lifestyle at an affordable cost.
One of their ambitious projects, "The Greens", in The Electronic City of Bangalore, is a prime property with close proximity to the IT hub. With the launch of their Bangalore campaign for the initial phase, the project received a warm response and was extended to Mumbai. Mumbaikars were introduced to homes at 'The Greens' as an investment.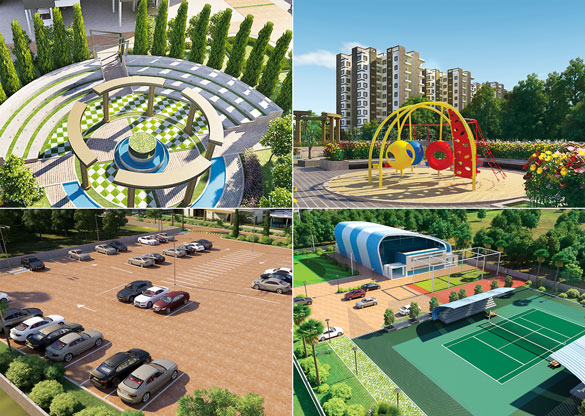 The campaign was released in leading newspapers of India, specifically on weekends for 3 weeks. Front page ads brought increased footfalls to the Mumbai office, eventually leading to booking of flats at The Greens.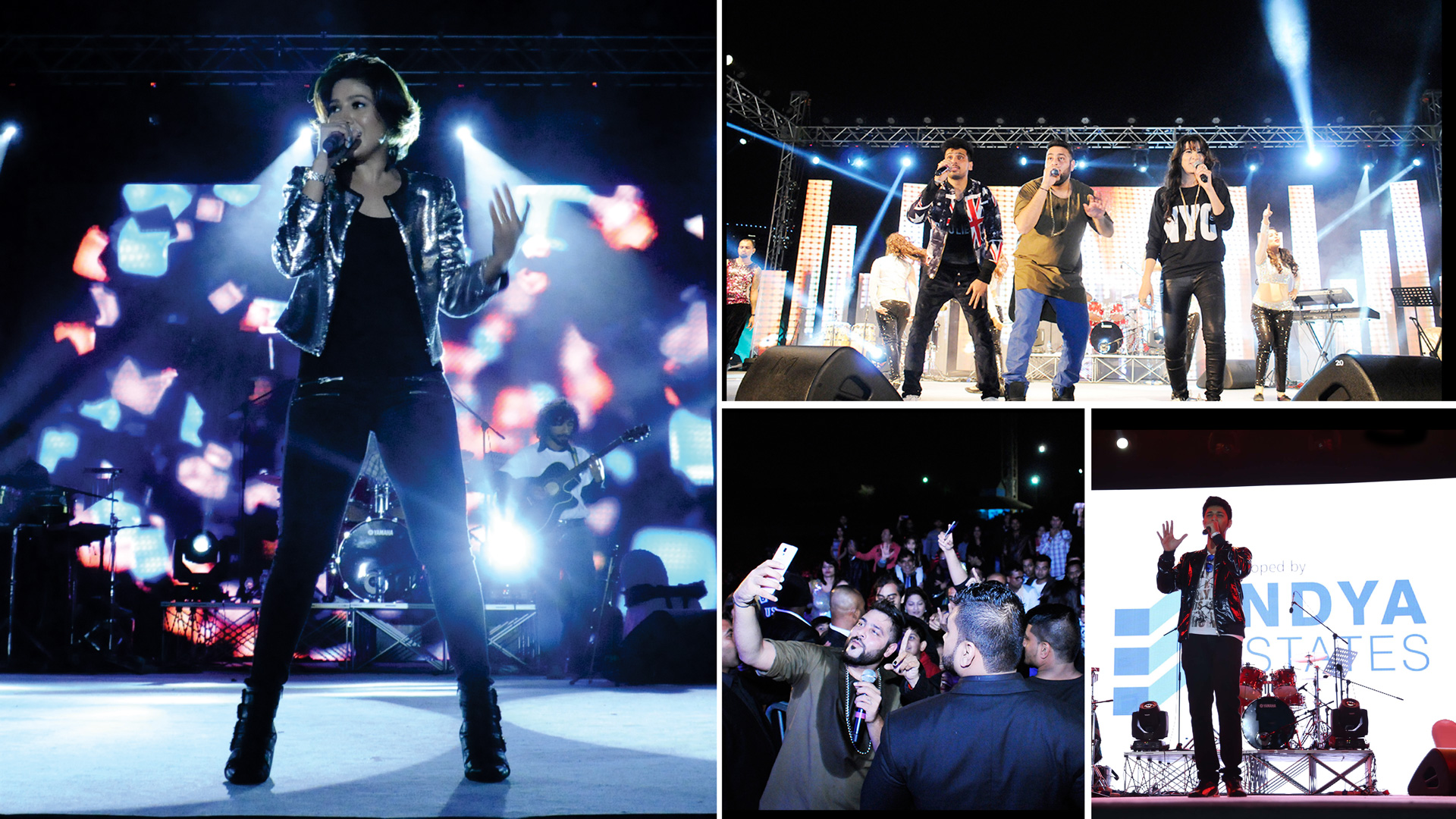 Indya Estate goes Middle East
Indya Estate was launching its brand in Dubai. The brief was to target NRI residents and promote Indya Estates projects – The Greens, Skyview and The Mist.
In the face of stiff competition in Dubai from world-wide builders, it was a herculean task to make a different yet appealing approach to NRIs.
To wait beyond the promised date of possession for their homes is an unsaid trend for customers. But Indya Estates being an exception values its commitment. My Home Celebration – was the creative name selected. Residents were assured of timely possession of their home.
We further pumped energy into this campaign, so as to create the required buzz and hype, we organized an event at Wonderland Park, Dubai. It was a star-studded affair, which featured Bollywood celebrities like Zarine Khan, Sunidhi Chauhan, rapper Badshah, DJ Shadow and comedian Sunil Pal they all performed at the event.
A media plan was devised to create excitement among the Dubai-ites with advertisements in the well circulated Khaleej Times and Gulf News. Besides this TV commercials on Zee TV, Star TV and B4U Plus and Radio spots on Radio ME, Radio Salaam and Radio Mirchi were added to the campaign so as to accelerate the brand's presence.
Amplifying the Digital discovery in 60 days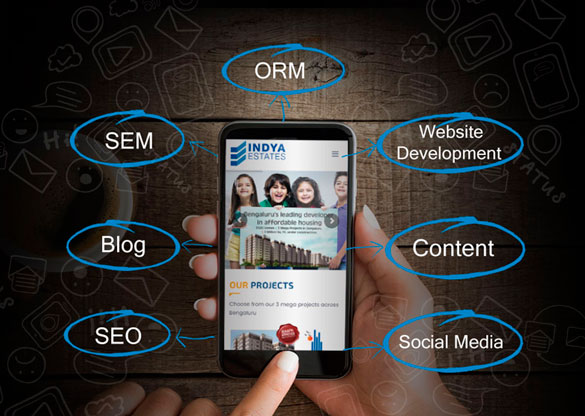 Over the years Indya Estates had been using traditional media such as print, outdoor and radio for their corporate and projects promotions. Digitally the brand experience a weak-spot. It suffered from high bounce rates on a non-responsive web platform, poor brand discovery on search and lack of community on social media were key challenges for the brand. Competition was aggressive on the digital front and Indya Estates was losing quality customers due to lack of focus on the digital media. Indya Estates felt the need of adopting digital assets building and they wanted to build this at top speed.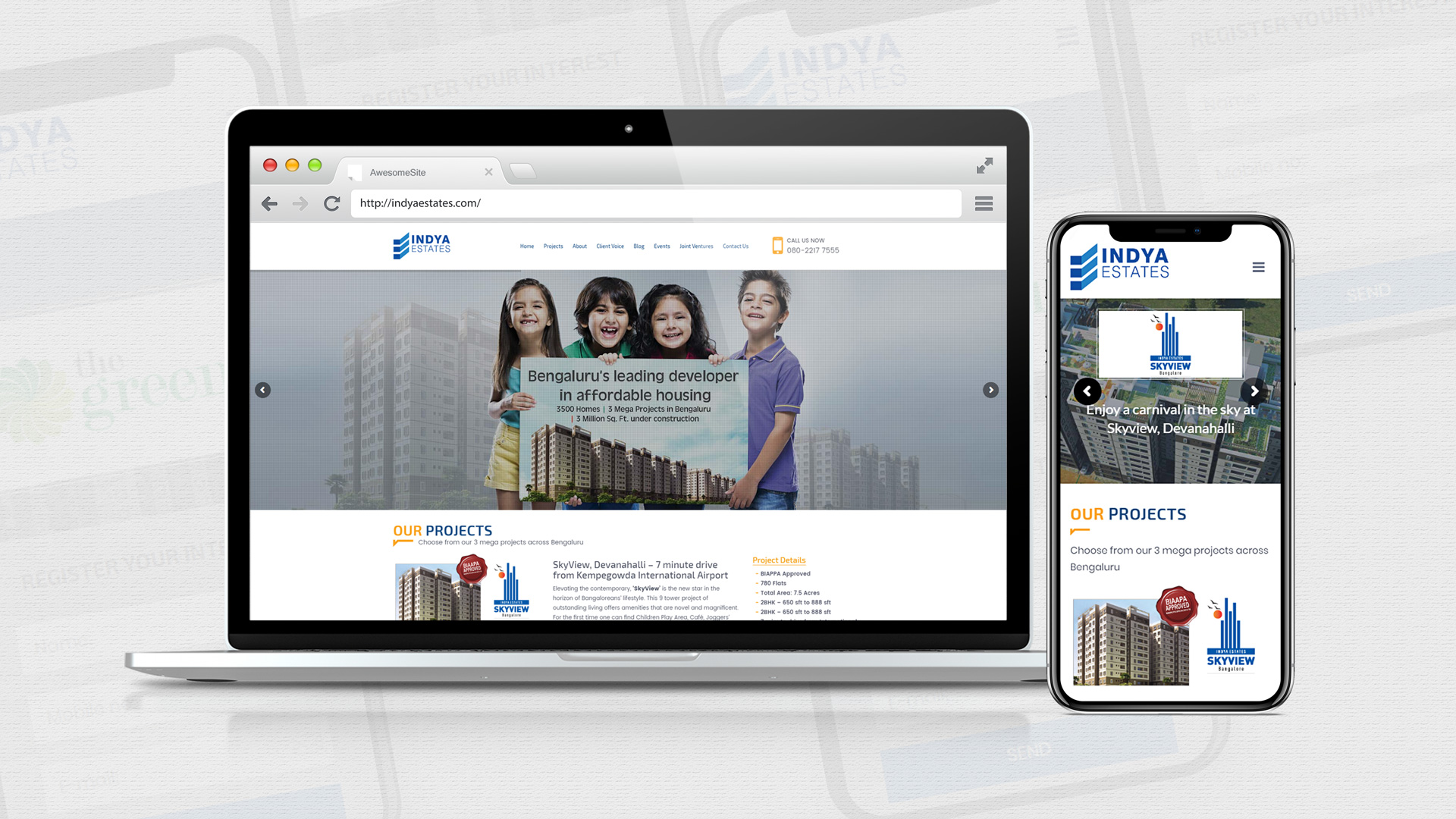 Our challenge was to deliver in 60 days. This required an agile approach. Thus we developed a fast track process to ensure the success of this campaign. Multiple teams were allocated for the execution for Website rebuild, Social strategy and execution, online reputation planning, SEO and SEM campaigns, blogs and overall content planning for the brand.
Website was recreated to provide easy navigation and access to the most relevant pages a user may want to see. Homepage focused on the credential building messages of the developer followed by projects. Testimonials from current buyers were brought on the forefront, which was missing in the past website.
We created an entirely responsive platform, wherein users could connect with the brand via online chat and call back options. Buyers were also keen to see the project status and thus we created specific pages to show buyers how their investment was progressing in terms of project progress and the same was updated real time.
Content was refurbished across the site for better listing on search engines. A blog strategy was devised and series of blogs were created to attract users looking for specific help on keywords related to property investments or the best locations or new tax reforms in the real estate sector.
Social Media brought the current buyers to Indya Estate page and also targeted new audience via organic and paid campaigns. A strong content strategy was in action as we architected interesting campaigns like – a 'Did You Know?' series highlighting architectural wonders of the world, engaging users via contests, updating project progress and festive wishes. A series of videos were planned for YouTube channel focusing on Project reviews, Customers Reviews, Tax Reforms for Real Estate – delivering good listing of Indya Estates on the video platform.
SEO and Online Reputation Management. When it comes to Real Estate, reputation is everything. We claimed the google business page for the brand which was missing. We encouraged buyers to rate and review the brand on google. Basics like meta-tags descriptions, site map were fixed and site was submitted across directories. Blogs were submitted to relevant sites for improving back links. A thorough scan across web was done to check user sentiments for the brand and were addressed. Real time ORM is now in place for the brand and any query is now responded with a TAT of 2 hours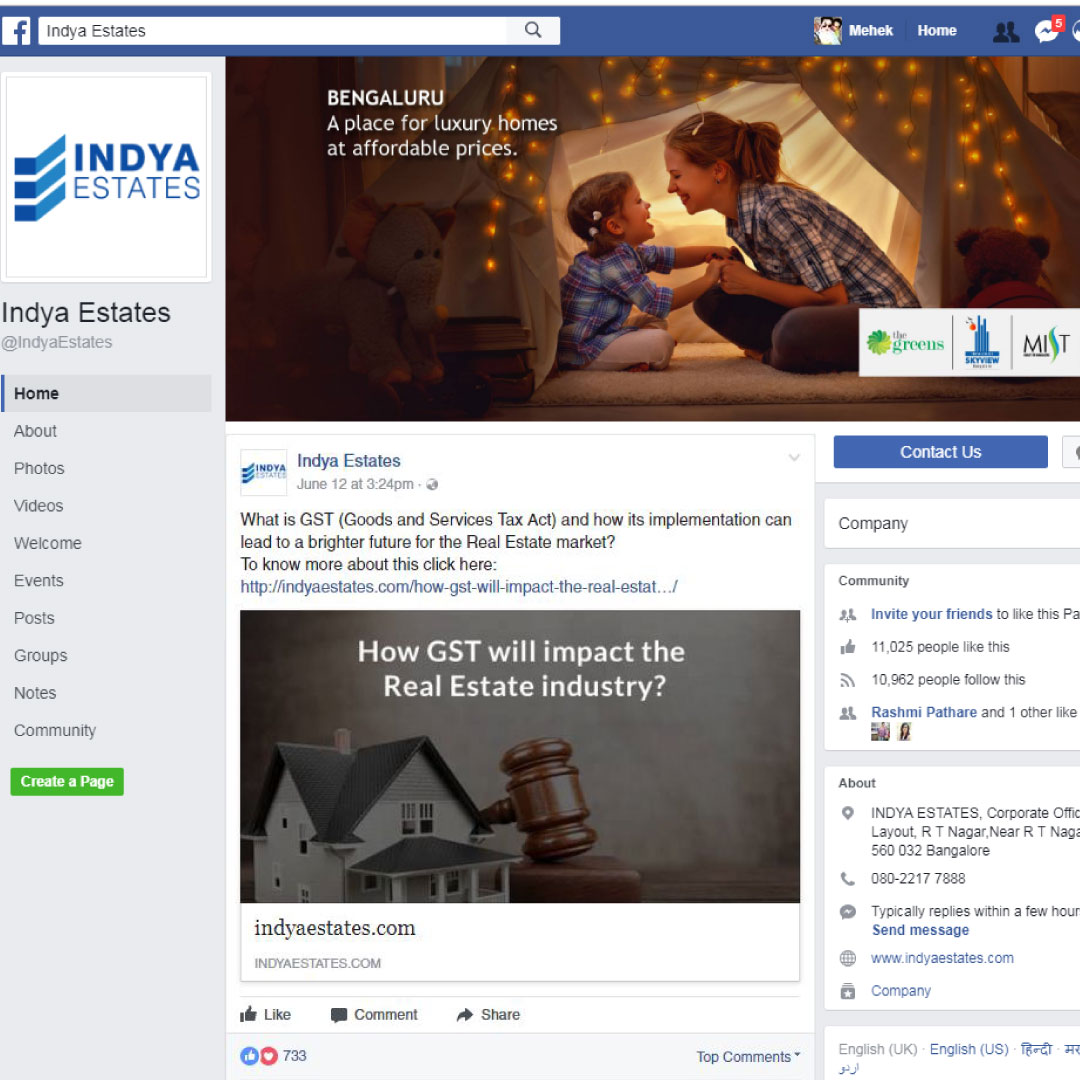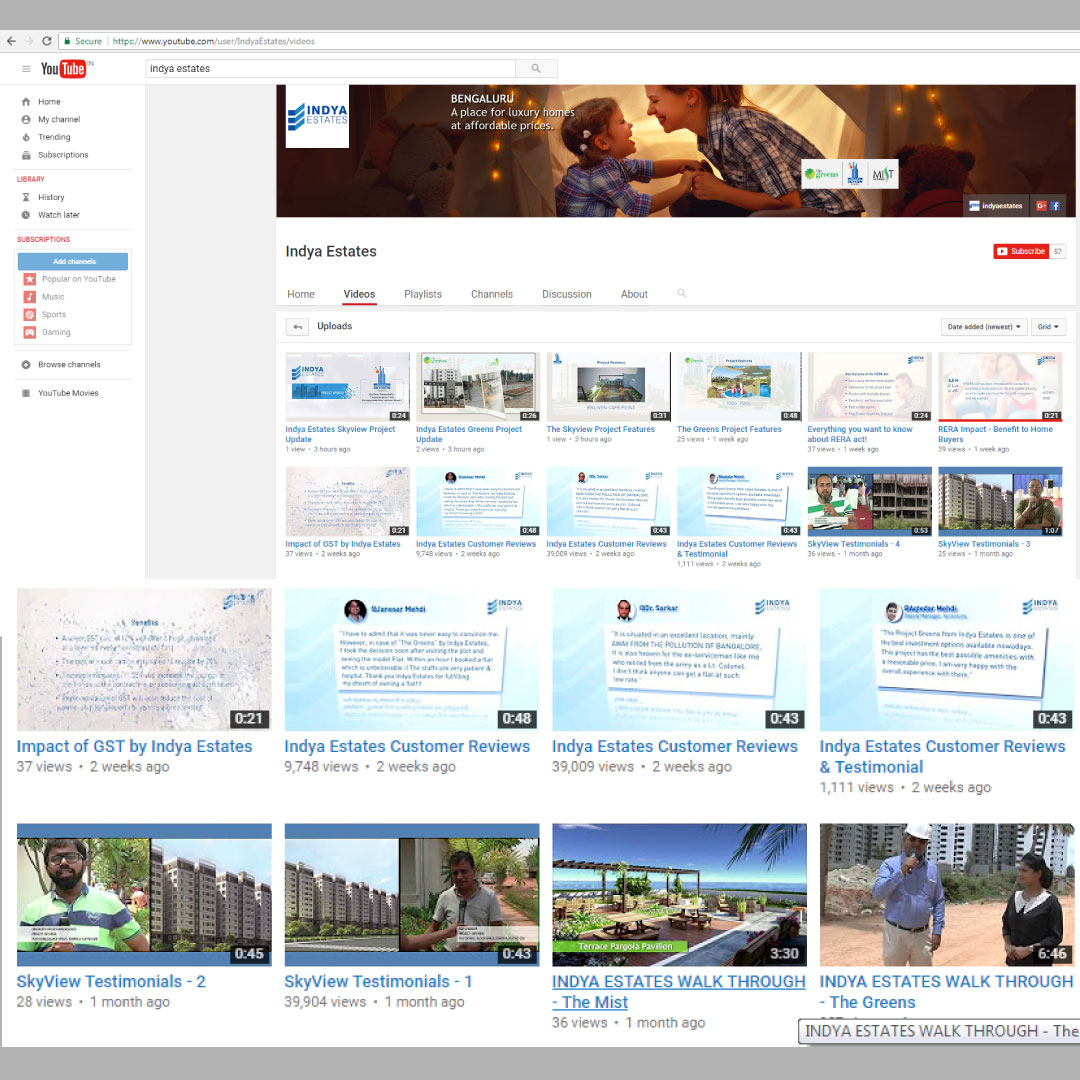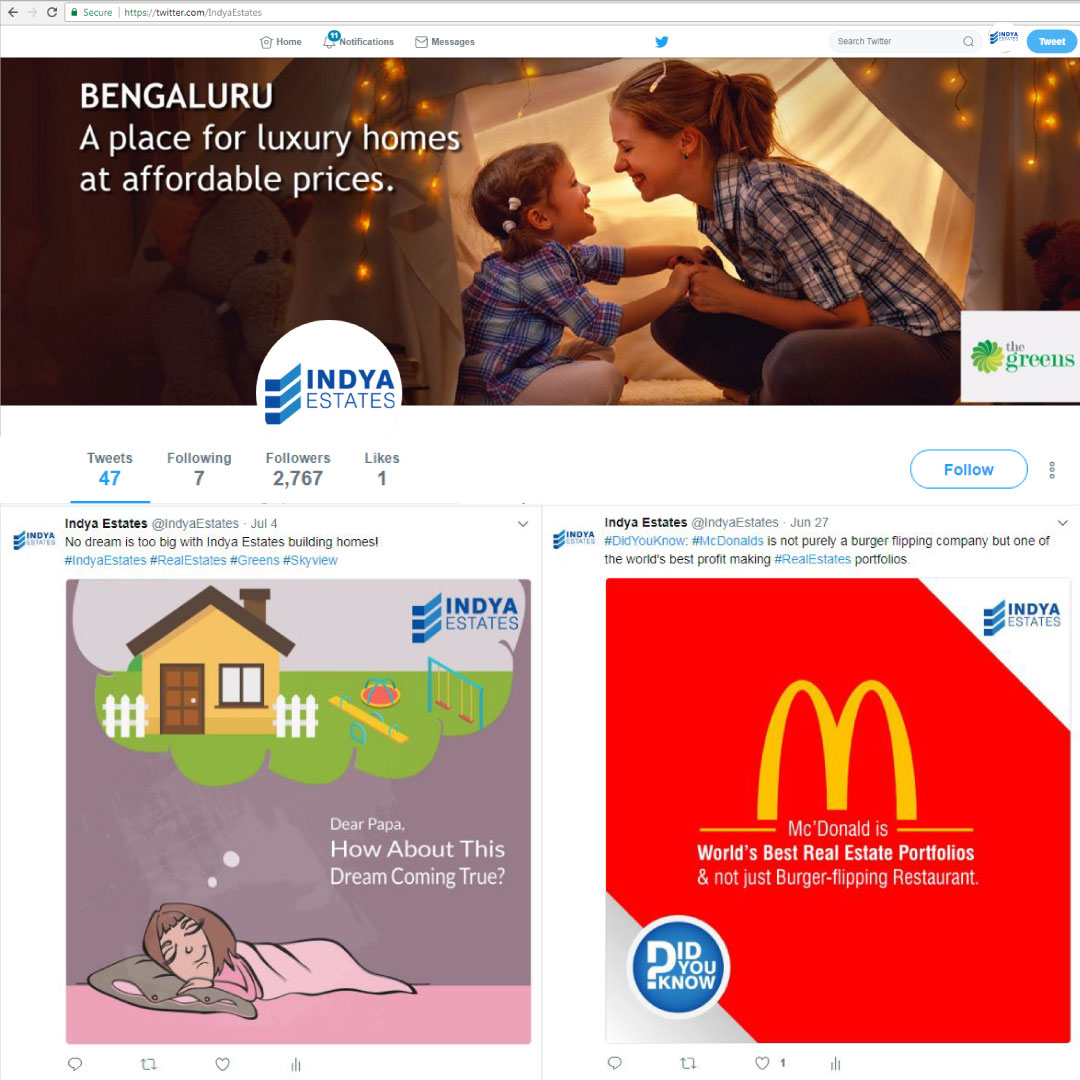 For search engine marketing we developed an ongoing ad-words and display campaign. We ensured that both organic and inorganic keywords used by consumer for the brand and the category were embedded. Various creative banners were made to follow the users across the web via remarketing and bringing them to the landing pages of projects and customer reviews.
E-mail marketing was also conducted, with a strong database in hand and more users being added everyday via blogs and inbound, series of email campaigns were created to update people on the projects progress or learn more on the projects campaign. Clean designs and relevant copy were created to attract more openings on the campaigns.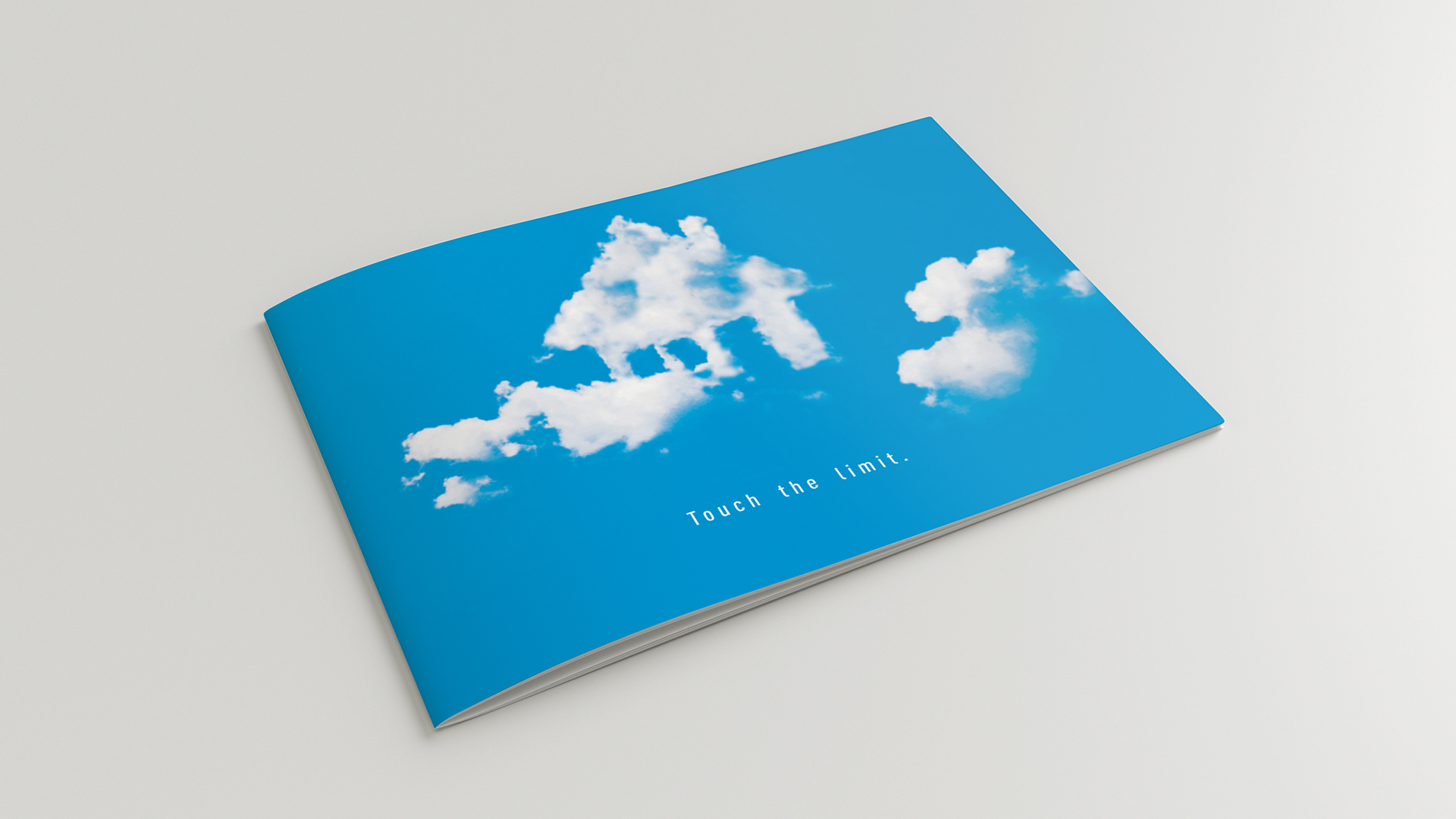 RERAssurance campaign lead to an exponential increase in the website traffic wherein users logged in to download the publication and read the blogs. The effort to communicate with property buyers on common ground paid off.
Homeforall – The campaign was highly successful, with the realtor receiving 600+ queries for the Skyview project. Total sales achieved were more than 100 units, which was an exceptional feat under bad market conditions.
The Greens – The campaign met with unprecedented success. In a short span of time, all flats in Phase 1 have been booked and booking for Phase 2 is on in full swing.
My Home Celebration attracted an overwhelming 6000 NRIs to the venue. The icing on the cake was: The Greens, Bangalore Phase One was completely sold out. Heart-warming success and an overseas milestone!
The digital challenge led to: We were able to achieve key milestones set in the given timelines. Website load speed improved from 45 seconds to 4 seconds. Reduction in bounce rate on website from 55% to 40%. Online and social queries turn-around time improved by 92% from 72 hours to 12 Hours. Search engine results improved with organic keywords listings. Leads quality improved with effective SEM campaign and landing pages.