When a Global financial firm plans its entry into India the core challenge is to maintain its international brand identity as well as appropriately localize so as to create an instant connect with the target audience. Philip Capital, a Singapore based financial firm, was poised to set foot on the Indian soil in Mumbai. We were approached to establish the brand in the Indian market and build an emotional connect with high net-worth individuals. Phillip Capital's global tagline is "Talk to Phillip", and our challenge was to retain the global tagline with a local flavour. All this had to be done in a time when Indian economy was low on confidence and needed to be motivated for being an active investor.
Philip Capital a financial conglomerate operates across 16 countries and has over one million clients worldwide. They offer a wide range of innovative and quality financial services for retail customers, HNI, family offices, corporates and institutions.
Our task was to help them enter the Indian market and establish their brand, and connect with their target audience – high net-worth individuals. We began our process through conversations with HNI'S. These conversations brought about a realization that this was no mass audience but rather, a sophisticated and well-read target audience. We were talking to an audience that follows market news and trends as it happens"
Thus our communication strategy was based on the premise that the investors' sentiment was a major factor to be reckoned with. We decided to plan for multiple campaigns across the year. Campaigns that would reflect the trend, share the joy of a bull market and guide the investor in tough market situations. 4 different campaigns using integrated mediums were executed in a period of 24 months, expressing visible trends for market fluctuations – pre-elections, election results, forming of a new government and a new Prime Minister, the Union Budget, etc.
In the words of the client…
"I have been very impressed with Six Inches for the last 8 years that we have been associated with them as our sole communication and brand agency.
During our business transformation, Six Inches ensured that our brand is in sync with the industry perspective. In a highly specialized industry like ours, they seized the opportunities with absolute agility and also understood the issues in our business and put together a comprehensive plan. Their brand audit and recommendations were an eye-opener for me. They collaborated seamlessly with our global brand teams for uniform messaging and brand synergies. Brand integration across all mediums comes naturally to them. Their high-energy and analytical skills allowed them to present to us a completely different way of looking at our brand campaigns, which gave us good ROI. We are very pleased with their results!"
Vineet Bhatnagar, Country Head, Phillip Capital, India
Storytelling, not selling
With the challenge of creating communications that are market adaptive, we had to keep in mind the budgets and create a video that was "timeless". A narrative that would be all weather. Our insights came from the fact that when it comes to equity investments, timing is everything. With a beautifully shot film in the backdrop of Los Angeles, the new TVC was weaved around the theme of 'Time'.
Be it planning for the future or pursuing a hobby, time is of essence. The film inspires the audience to pursue their passion and builds up to a crescendo where it says: "The time is always right to do what is right". The TVC ends with an appropriate motivational call for action to investors – "To know when is the right time to invest, talk to Phillip!"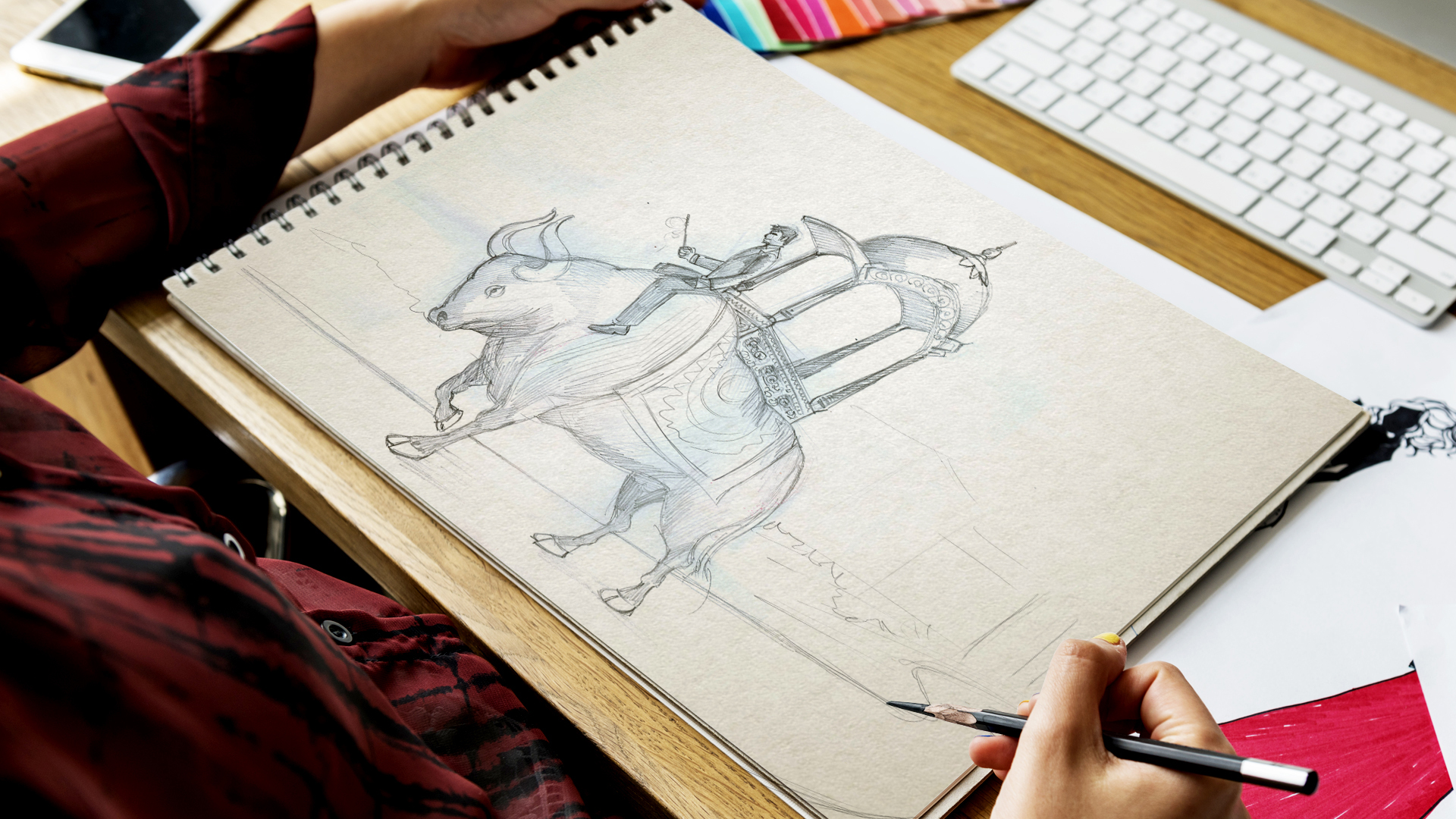 From conversations to relations
To initiate a conversation, open a dialogue that encourages HNI investors, we crafted a high frequency Out-of-Home campaign. The central idea being, 'Talk to Philip', their global tagline. The idea was to appeal to and reckon their investor sentiment. Point out the joy of the market being bullish and position Philip Capital as the ideal matador to tame it.
An illustrative visual campaign with varied combinations of a bull being tamed by an investor. Sometimes playing the pied-piper and sometimes the feisty matador. With Phillip Capital expertise and knowledge, investors had the prowess to lead the market. We chose OOH media as a single medium to deliver these campaigns. Based on our research that the relevance of this medium was highest in the audiences' mind.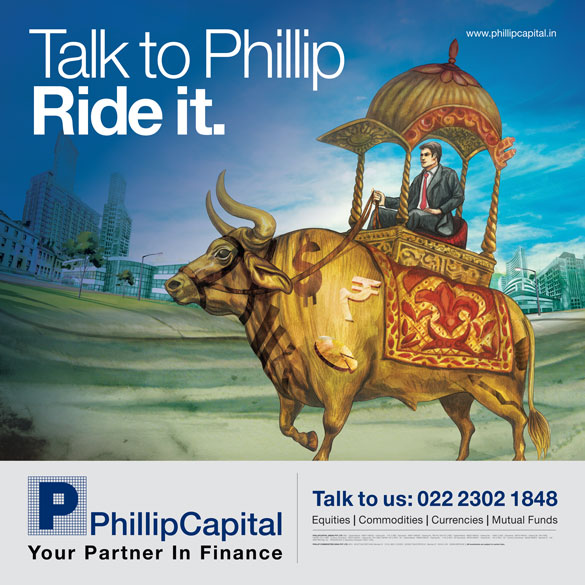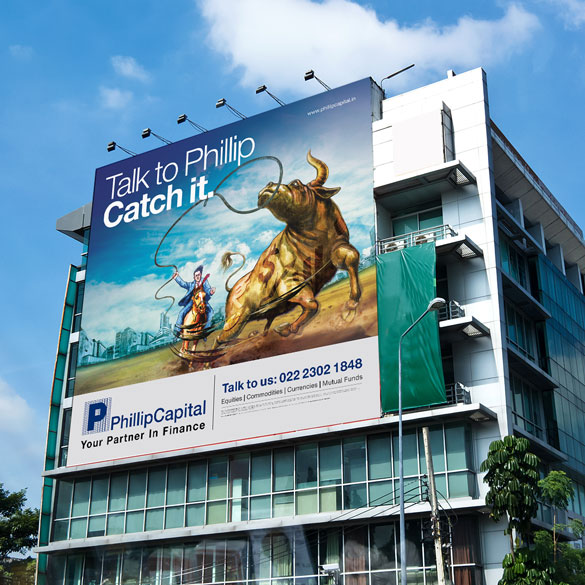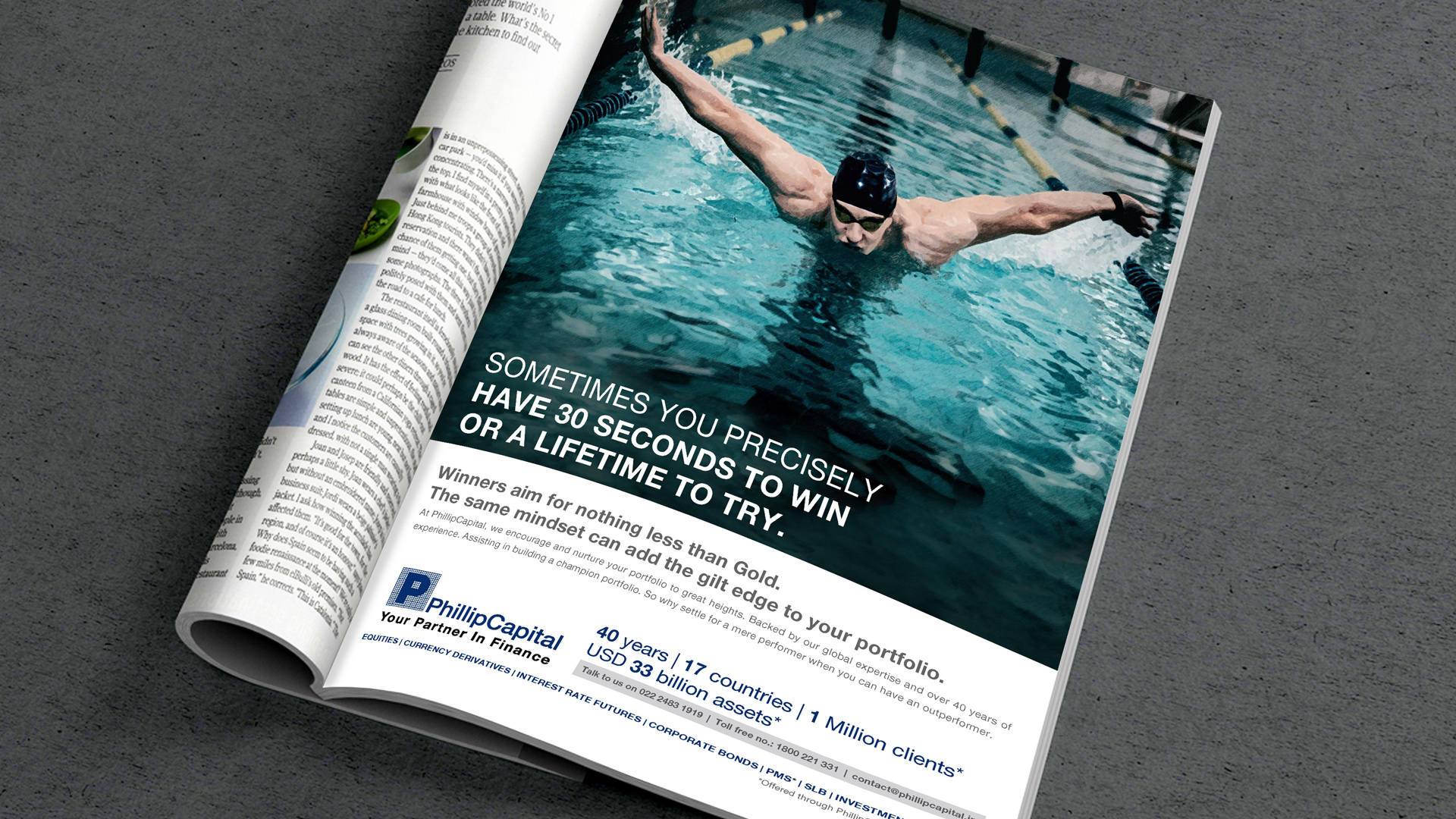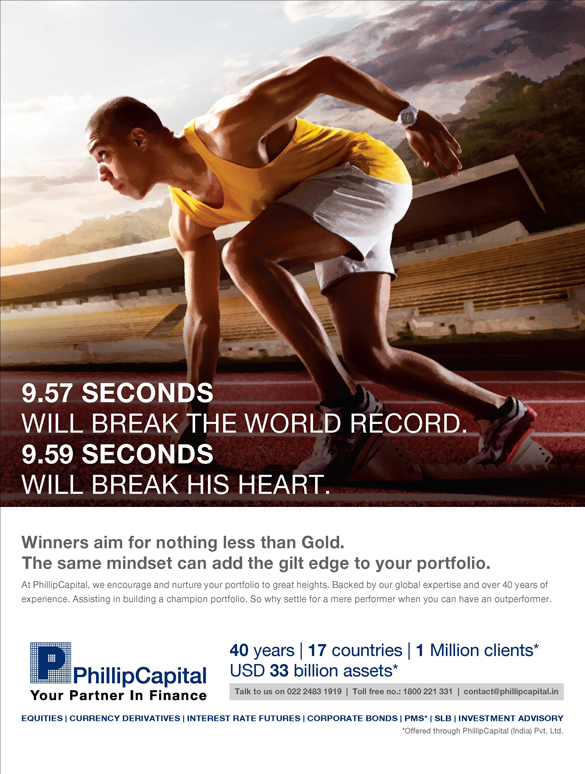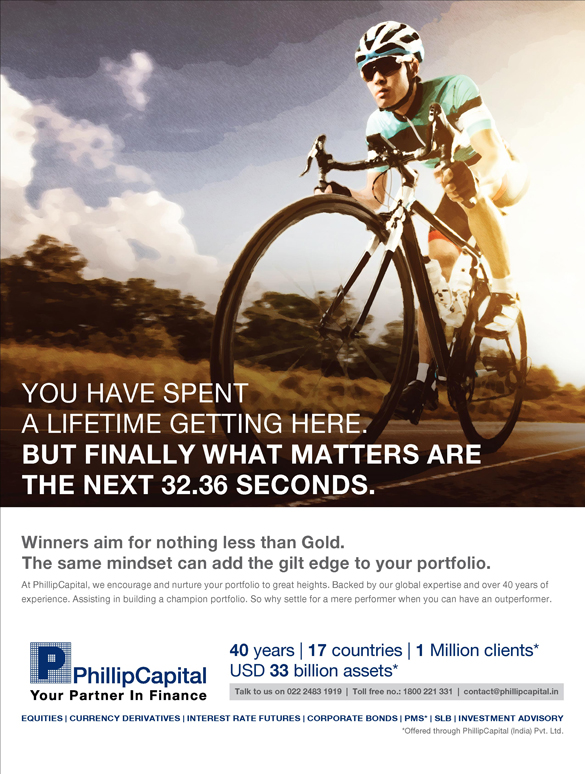 Designing spaces that inspire
We redefined the corporate office of Philip Capital in Mumbai. We chose not to go with the stereotype financial firm environ. We redefined the space by choosing a mix of vibrant colour palate, enhanced them with attractive visual representations. Each visual deployed was a metaphor of growth, it aptly positioned Philip Capital as the new age financial giants. The vibe the space exhumed was positive and encouraging for employees, visitors and customers alike.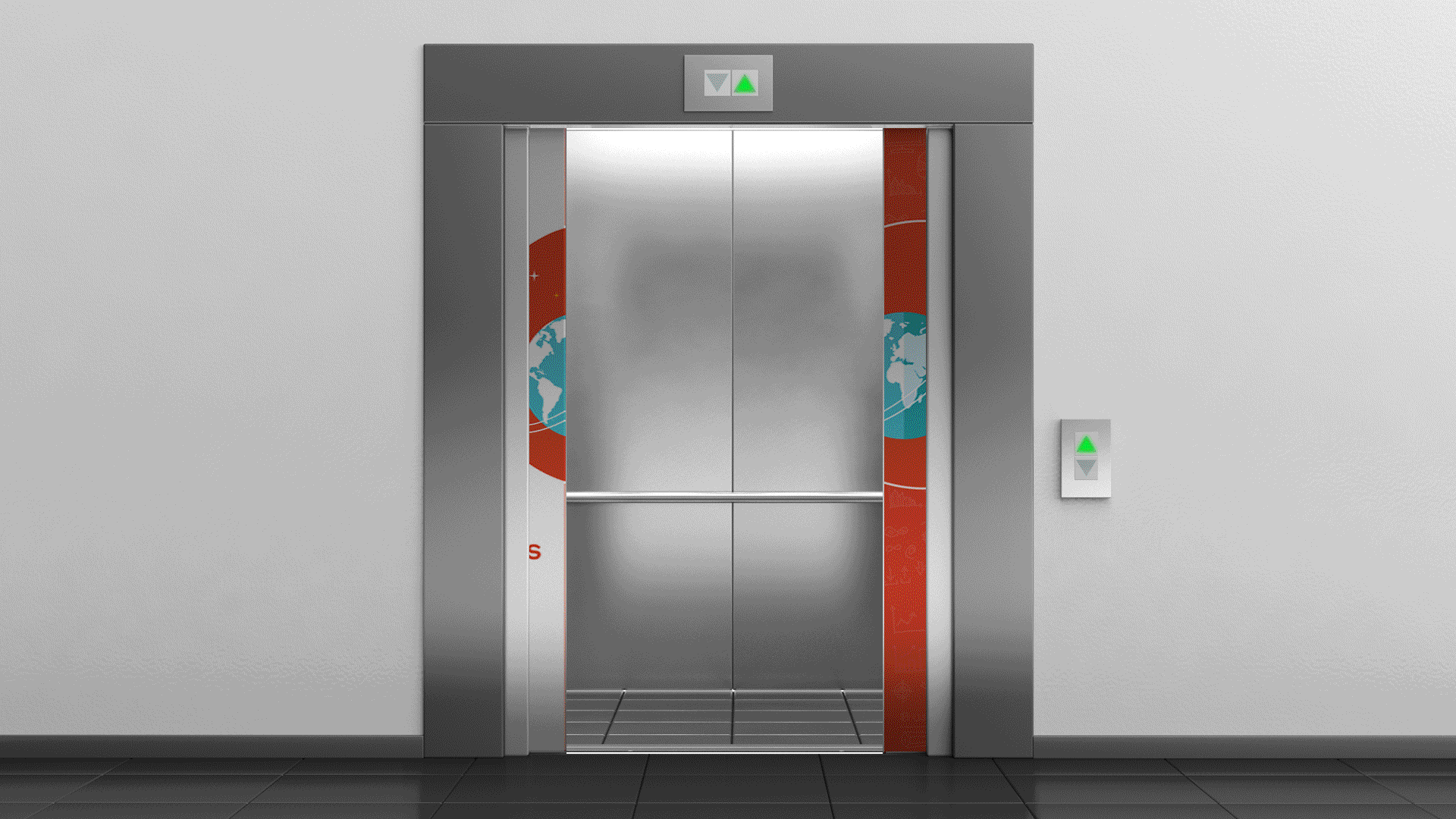 Driving advocacy through impeccable web-experience
The final mile was that of aligning the digital experience of Philip Capital with its overall promise and brand identity. We were required to transform a complex, non-responsive, product driven website into a user-centric and simple experience. We based the transformation on our understanding of the user journey and expectations. We worked closely with all the stakeholders of the business and eliminated issues and introduced a new look and experience.
We systematically eliminated clutter, synthesized content and created fewer compartments. With deep mind mapping exercises we created a focused UX strategy. A mix of primary and secondary colours was used create appealing visual messaging. More than 100 creative banners were made to make unique pages for products and services, initiatives and forms.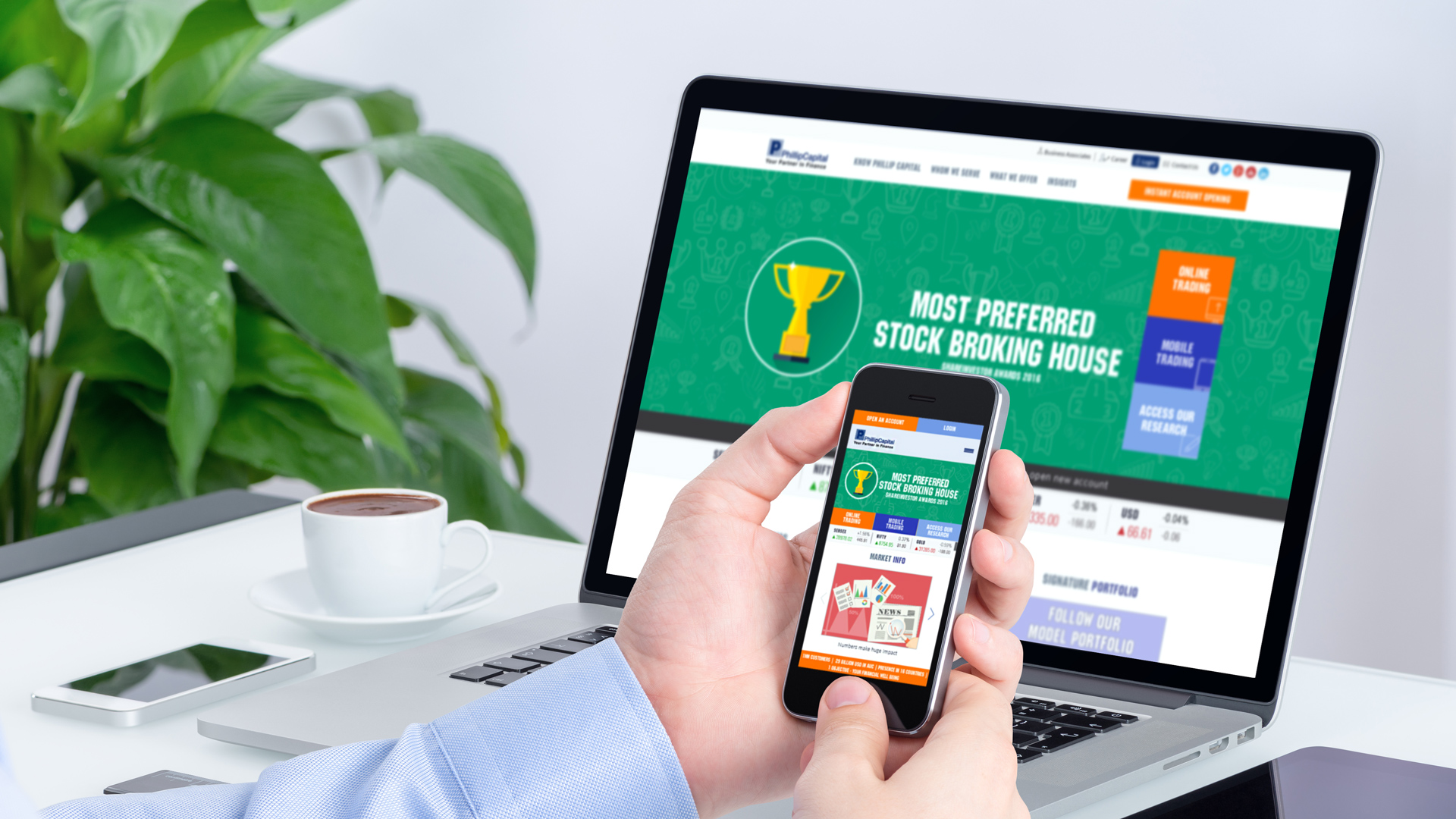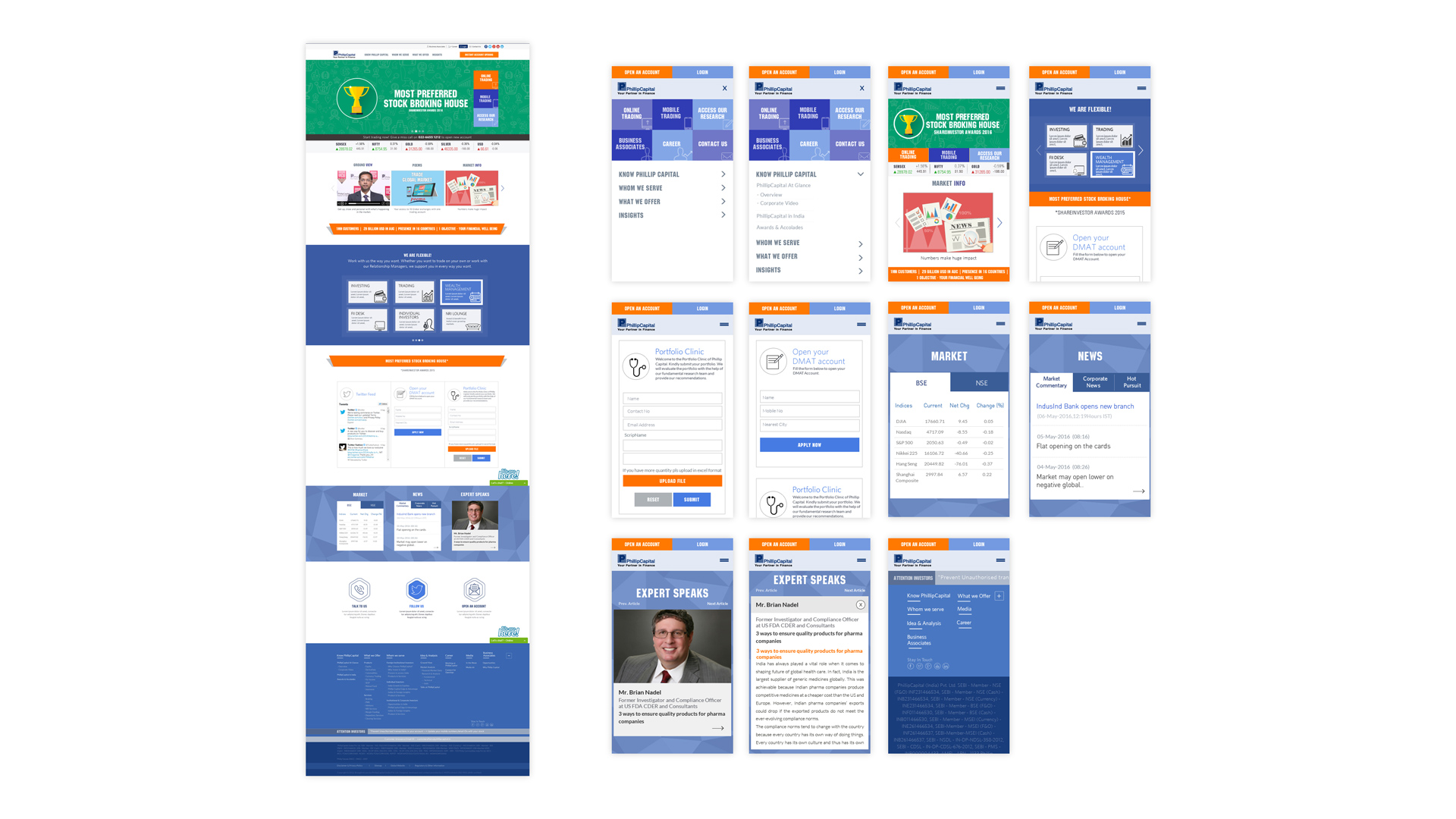 The TVC was launched across leading business channels and on YouTube. In a span of 10 days of release the film attained more than .5 million views with paid and organic reach
The OOH & Print campaigns garnered a positive response from the investor community. Execution of multiple campaigns at regular intervals ensured a constant connect was maintained with the audience. It created a niche in the market and reinforced Philip Capital's brand equity. The campaign won accolades from client and their global partners.
Phillip Capital's existing and potential clients now enjoy a best-in-breed end-to-end digital experience. The new web platform is fast, informative and relevant to the users. Best of all, it's a platform that Phillip Capital can build on, adding on future functionality as and when it's needed.